It's been an eventful summer for fans of the Ukrainian national team.  Though the team performed admirably as co-hosts of Euro 2012, and with Shevchenko's stunning brace against Sweden going down in history as one of the finest moments of Ukrainian football, the manner of the defeat against England left a bitter taste in the mouths of supporters of the Yellow-Blues.  The end of the tournament marked the end of the international careers of both Andriy Shevchenko and Andriy Voronin.  The former needs no introduction; the Ballon d'Or winner is a legend of European football and the runaway record goalscorer for the national side.  Voronin, despite his modest goalscoring record for Ukraine (8 in 78), has always been an asset when called up and excelled as a second striker, linking midfield and attack effortlessly.  Now it has emerged that goalkeeper Oleksandr Shovkovskiy has also decided to hang up the boots and retire from international play.  Shovkovskiy had struggled with injuries for quite a long time and, at age 37, was never going to stick around for much longer.  But the Dynamo keeper had been first choice for the better part of the past two decades; with his retirement Ukraine has lost a legend, even if he was no longer first in the pecking order.
So where do Ukraine go from here?   The retirement of three talismanic players in one summer is a clear indication of a changing of the guard.  Of the 23 players in the squad at the 2006 World Cup, only four remain: Oleh Husyev, Anatoliy Tymoshchuk, Ruslan Rotan, and Serhiy Nazarenko.  But this is not a sudden revolution.  Manager Oleh Blokhin, the man who led Ukraine to their first ever major competition, returned in time for Euro 2012 after his numerous successors failed to live up to the standard he has set.  During Blokhin's second spell as manager he rejuvenated the side with an injection of promising young talent.  Earlier this summer we already saw a younger, more dynamic Ukraine that was far more easy on the eyes that the drab, defensive selection at Germany 2006 (see the 0-0 vs. Switzerland).   Blokhin decided to stay on after the Euros and will now lead Ukraine through the 2014 World Cup qualifying cycle. He is not a particularly astute tactician but he knows the strengths and weaknesses of his squad and is an excellent motivator.
The national side's only match since Euro 2012 was the August 15th friendly against the Czech Republic.  The lineup was an experimental one, but as Ihor Boyko at football.ua points out, every line up Oleh Blokhin comes up with in the absence of both Sheva and Voronin comes across as experimental.  Ukraine performed rather well, and totally outplayed their opponents for the vast majority of the match.  But they were unable to breach Petr Cech's goal, and the match finished a scoreless draw.  Rather than analyze this match individually, here instead is a broad overview of the state of the Ukrainian national team in the lead up to the 2014 FIFA World Cup qualifying campaign, with analyses of each position followed by a tactical preview.
Goalkeepers
Andriy Pyatov was the starting goalkeeper at Euro 2012, and appears to have a firm hold on the position.  He was relatively untested in the friendly against the Czechs, but he has established himself as the number one keeper at his club, Shakhtar Donetsk, and barring injury or a dip in form the 28 year old can expect to become the regular started between the posts for both club and country.  As I wrote in my preview before Euro 2012, Pyatov is "solid under pressure, good with his feet, and capable of initiating the counterattack with his distribution."
His understudy is Maksym Koval, the starter for Dynamo Kyiv.  Koval is just nineteen years old but has shown incredible maturity  for someone his age.  His clean sheet in Dynamo's 2nd leg Champions League qualifier at Feyenoord was a fine demonstration of his abilities.  He made numerous excellent saves and ensured Dynamo's progress into the next round.  Andriy Dikan of Dinamo Moscow is the veteran of the bunch at 35 years of age and rounds up the three keepers selected by Oleh Blokhin for the initial round of qualifiers.
Verdict: There is no Buffon or Casillas caliber goalkeeper here, but then again, how many teams possess such quality?  Pyatov is perfectly capable, and with the promising Koval pushing him for the starting position, Ukraine are in good shape here.
Center Backs
Yevhen Khacheridi and Taras Mykhalyk, the Dynamo Kyiv pair, started for Ukraine at Euro 2012.  But in the friendly against the Czechs Blokhin opted for Yaroslav Rakitskiy of Shakhtar to partner Khacheridi.  Khacheridi has been in great form this season at Dynamo, and looks to be maturing and shedding his reputation as hothead.   Rakitskiy is a versatile player; he can play center back, left back, or as a defensive midfielder.  He also has a thunderous left foot and is a threat on set pieces, and although he has had trouble replicating his club form for the national team, this could yet prove to be a promising partnership. Both Mykhalyk and Oleksandr Kucher are experienced on the international level and are quality backups should the two fail to gel, although both are out injured for next week's clash against England.
Verdict: Much depends on how much trust places Blokhin in the Khacheridi-Rakytskiy partnership, but if both can play for the national team as well as they do for their clubs, Ukraine may have a center back pairing for the long term considering that  Khacheridi is just 25 and Rakitskiy, 23.
Fullbacks
This is a definite question mark for Oleh Blokhin.  The vastly experienced Oleh Husyev played at right back during the Euros, but Husyev is not a natural fullback and his defensive liabilities were clear.  Bohdan Butko, the 21 year old from Ilichivets Mariupol, started against the Czech Republic and is the prime candidate for the position.  He is very quick and likes to get up the flank to support the attack, which can sometimes leave him exposed at the back.  His counterpart on the left is Yevhen Selin of Vorskla Poltava.  Selin was the first choice left back at Euro 2012 and tends to be more defensive-minded, although he can also help out offensively.  Vitaliy Mandzyuk and Vyacheslav Shevchuk are the backups.
Verdict: The problem is not the lack of quality, but rather the lack of experience.  Butko and Selin are just 21 and 24 years old, respectively, and are both promising players.  But they have just 22 caps between them, and neither plays for a club side that participates in European competition.  However, there is much potential here, and if the duo continue to progress then there is plenty to be optimistic about.
Central Midfield
Anatoliy Tymoshchuk is the captain and only member of the squad to make his living playing in Western Europe, although his place at Bayern is no longer assured.  He is the most capped player in Ukraine's history and is all but assured of a starting position; he is excellent as a holding midfielder and has a fierce long range strike.  There are several options to partner Tymo.  In the friendly against the Czech Republic Blokhin picked Dynamo midfielder Denys Harmash.   The 22 year old has been in fine form at the beginning of the season and put in a solid performance against the Czechs.  Ruslan Rotan represents a more creative option in the middle of the pitch, as does Serhiy Nazarenko.
Verdict: With Tymoshchuk and Harmash there is plenty of power in midfield for Ukraine, but creative inspiration is more difficult to find.  Rotan has never impressed for the national team, and at 32 years of age it appears that Nazarenko is approaching the tail end of his career.
Wingers/Attacking Midfielders
This area of the pitch is one of Ukraine's strong points.  Oleh Husyev, a regular in the side since 2003, can play on either flank and is comfortable cutting inside as well.  Andriy Yarmolenko, his Dynamo teammates, is one of Ukraine's brightest young talents and often plays as an inverted right winger, but can also also played the number 10 role behind the striker.  On the opposite flank, Yevhen Konoplyanka is another promising youngster who possesses great pace and the ability to take defenders on one-on-one.
Verdict: Great young talent to go along with experience.  Figuring out how to incorporate all three into the side will be a headache for Blokhin, but as the cliche goes, it's a headache that any manager would love to have.
Forwards
The retirements of Voronin and Shevchenko leave a big gap up top that is only made worse by the poor club form of Artem Milevskiy and Yevhen Seleznyov. Roman Bezus of Vorskla Poltava plays as a second striker/attacking midfielder for his club side and came on as a sub in the Czech Republic for just his second international appearance (he could easily be included in the Winger/Attacking Midfielder section as well).  Roman Zozulya of Dnipro also has just two caps to his name, and although he did start against the Czechs he was played out of position on the right flank; for his club side he usually plays a number nine role.  Marko Devic of Shakhtar is the only one of the three to have played a part at the Euros and is the favorite to start against England.
Verdict: The lack of depth and international experience is worrying.  There are massive shoes to fill in the striking department.  Obviously a player like Shevchenko does not come around every generation, but there will be massive pressure on Devic and the rest of the contingent to put the ball in the net.  Among the three strikers, they have three goals between them.   Blokhin has recently expressed concern that Devic is not getting enough playing time for Shakhtar following his move from Metalist Kharkiv, but he is still first choice for lack of better options.  Seleznyov and Milevskiy were dropped from the national team for that very reason.
Tactics
What kind of tactical set up can we expect to see on the 11th at Wembley?  Well, there is very little to go by.  We saw what can be described as a 4-4-1-1 at Euro 2012, but with just one game played since then it's not clear whether Blokhin will stick with that system or go for something different.  In the friendly against the Czech Republic Ukraine lined up with something resembling a 4-2-4: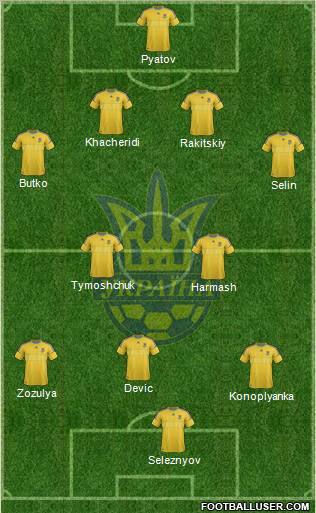 The back four is likely to start against England, as is the central midfield partnership (although we may see one of Rotan/Nazarenko come in for Harmash).   But it is the front four that will be very different.  Seleznyov has already been left out, while Zozulya is unlikely to start, especially out wide.  Personally, I would like to see Husyev come in on the right with Yarmolenko playing behind Devic in a 4-2-3-1 formation: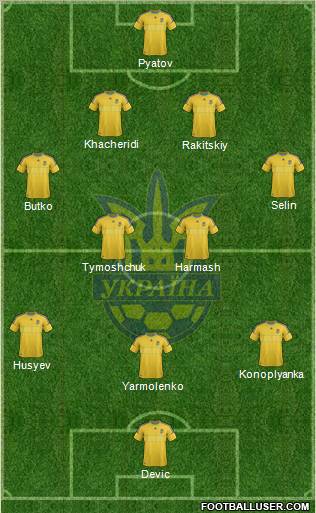 With this set up you've got power in the midfield, and three creative players to support a lone striker.  If Yarmolenko tracks back and helps out Ukraine won't be overwhelmed in midfield battles, and the fullbacks are capable of getting forward and supporting the attack.  But what starting eleven Blokhin actually goes with come the 11th is anyone's guess.
It must be said that Blokhin is not a tactical idealist; he does not have one preferred system which he utilizes under any circumstances.  As mentioned before his Ukraine side at the 2006 World Cup were far more defensive and boring, often playing for a draw against more powerful opponents.  But as Ukraine's performance at Euro 2012 demonstrated, they have evolved into a more proactive, dynamic side.  Expect this trend to continue in the upcoming cycle of World Cup qualifiers, and beyond.
Bottom Line
Blossoming center-back partnership
Promising but unproven fullbacks
Powerful midfield, lacking in creativity
Fast, direct wingers/attacking midfielders
Giant question mark at striker
Tactics unclear, but expect a relatively attacking 4-4-1-1/4-2-3-1 type formation
Time permitting, I'll write up a tactical preview with the England match specifically in mind.  Thanks for reading, and watch this space!